An Overview of
Substation Information Management System (SiMS)
Substation Information Management System (SIMS) is the central operating console for software functions relating to a particular substation be it electricity, gas or water. It serves as the control point to manage substation operations including management of engineering configuration and maintenance requirements, management of ALL third-party software used for control of relays and other substation equipments, as well as the repository of engineering knowledge and documentation including standards, practice and guidelines. The industrial grade software becomes the main operational dash-board whenever a substation is commissioned and operational. All engineering and maintenance operation is undertaken from here and it secures the computer systems to avoid malicious or unauthorized access to all software controlling equipments in the substation. Engineers also have access to all documentation (technical and general) pertaining to the equipments there and also the setting tools that are provided by all the vendors who have supplied software tools for management of their individual equipments. All operations are also audit-trailed and a logged.
The Uniqueness of SiMS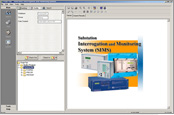 Utilities worldwide are requiring effective operational monitoring tools that allow a common interface for their software solutions which can be used to enforce authorisation control, parameter setting, decision-making and maintenance operations. The ability to ensure such compliance is the missing link in productivity and efficiency at the moment is the myriads of operations that are required in substation management. Different vendors supply utilities like Tenaga Nasional, Indah Water, etc and usually every substation, there will be equipments from each of these vendors (eg. ABB, SIEMENS, REYROLLE, etc) and the relating technical specs and maintenance schedules.

Apart from that, the systems are located on a central PC that can be accessed by anyone who is in the room and no tracking system is available to control access as well as log the activities performed. Engineering and maintenance personnel also have a difficult time finding the software tools that are required for each equipment and the relating documentation and technical specifications and SIMS is aimed at bringing order to this chaotic and confusing information and tool sets and create a central console that manages the substation activities.

To make the product effective and unique, we have created an easy to use and powerful interface. With SIMS, we have maximized the use of screen real-estate with innovative program management, file and schedule management, searching, viewing and results display all in a compact and easy to use environment. Beyond that, SIMS has moved beyond just substation monitoring by including information management system where users are totally independent to work in a seamless environment within SIMS.
Recognition of SiMS
SIMS is currently installed and used in substations in South East Asia through our partnership with INCONTROL TECH SDN. BHD. The knowledge management portion of SIMS is powered by the award winning FingerTips KM System and is fully integrated into the substation module.